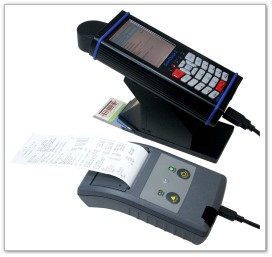 The portable thermal printer is connected by a USB cable to the ScanCheck 3n. The printer has its own power supply by using an internal rechargeable battery pack. The printer uses 57 mm wide thermal paper. The paper roll is fixed inside and cannot fall out while using the printer portable. The printer is able to print the scan reflectance profile.
20 mil Adaptor plate
To be able to measure large codes like ITF-14 or other codes on transport labels the measuring aperture can be increased to 20 mil by the aid of the 20 mil adaptor.
Features:
Powerful 32 bit ARM9 CPU
Contactless measurement by laser scanner technology
Easy software update by Flash-ROM technology
Software option upgrade by access codes
Password protection for setup
Multilanguage user interface
Auto discrimination of major barcodes
Order number assignment
Memory for 100 reports, expandable by MMC Card
Full analysis to ISO, ANSI and CEN standards
Additional analysis of optional parameters including a detailed metric evaluation
Selectable PCS evaluation for best and worst contrast case
Optional parameters can be graded, viewed non-graded or disabled
Averaging of up to ten scans. Count of non decoding scans in average measurement
Automatic size measurement and verification
Verification of light margin
Wide to narrow ratio measurement for two–bar–width barcodes