The PC-Software REA TransWin 32 is a step ahead in methodology and representation of verification results. Additionally management of reports is more powerful than ever.
REA TransWin 32 allows connecting to several REA barcode verifiers at the same time either via USB interfaces or serial ports. The latest models are completely remote controlled and allow a sophisticated graphical report view.
Configuration and reports are transferred by using TCP/IP protocols. Full remote control of VeriCube, PC-Scan/LD4, ScanCheck 3n. Check ER report view.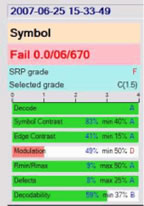 The compact result window gives in short the final verification result "Pass "or "Fail".
Details of reports are shown in clear graphical representations or in tables. The scan reflectance profile window allows zooming and measuring of details. It shows how the barcode appears to a scanner.
Parameters out of specification and errors are highlighted in red colour. This allows a fast check of inaccuracies and helps to analyze errors in the processes.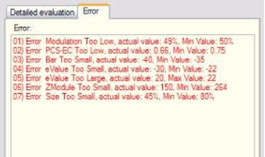 Verification reports can be completed by comments and user addresses. The reports will be organized hierarchically. Customers can open TransWin 32 reports without loosing any information. Additionally external PDF software may be useful to create reports in PDF format. For further information, please don't hesitate to get in contact with us.
Features:
Evaluation according to ISO/IEC 15416 or ANSI X3.182 and -upon request- with optional parameters in addition
Support of GS1 General Specifications
Classical PCS measurements can be taken into account as graded optional parameter or as view only parameter
Auto discrimination of all main barcode symbologies
Averaging of up to 10 measurements. If required, not decoded measurements can be taken into account.
Extended light margin control through wide area scan reflectance profile view
Wide to narrow bar width ratio control for two bar widths barcodes
Program password protected
Multi language user interface
Comments and measurement numbers can be added to reports
Reports can be saved by using an automatic file name generator or by individual user selected file names.
Reports can be shown and printed in the GS1 layout
32 bit software for modern MS®WINDOWS-operating systems 7, 8.1 and 10
Fast TCP/IP data communication via USB interface