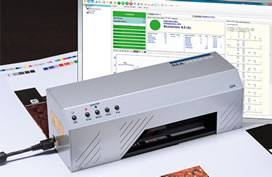 The PC-Scan LD4 incorporates a Software package and a measuring device (Laser Device). The Laser Device has a built in measuring unit with a diode red light laser driven by a motor. Measurement are transferred to the Software for evaluation.
The evaluation is divided into two parts. One part according to ISO/IEC 15416 (ANSI) the other part according to Symbology specifications and/or standards. In case of EAN Codes the international Standard ISO/IEC 15420 is the reference for the traditional evaluation.
Against the standards and specifications measured values are presented clearly on the screen.
The Screen shows the two evaluation methods at the same time. ISO/IEC 15416 method evaluates in detail the reflectance profile with different aspects. Quality is presented in 5 steps. The user is able to preset a quality requirement according to the application or material characteristics.
The traditional evaluation gives detailed metric results, bar width and positions as extreme and average values direct on the screen. In a table detail values for each bar and space.
As well as printed codes the PC-Scan/LD4 is able to measure positive and negative Film Masters according to ISO/IEC 15421.
PC-Scan/LD4 – Technical Specifications and Options


Optional Codes
This software has optional extra symbologies. The measuring program is also included in this package. Unknown Codes or random samples can be measured by the measuring program. This is useful for color contrast evaluation in preprint or to evaluate unreadable bar codes.
Film platen
The Film platen has a 1 cm slit instead of the 3 cm slit in the standard platen. A positive and negative Film Master is included for calibration purposes.
Adaptor for curved surfaces
This option is a special bottom plate prism. This supports the measurement of bar codes on circular bodies like cans, bottles and beakers. A defined position is required for measuring. Bar code have to be printed in ladder form on curved surfaces.
Basic Models
The measuring unit of the PC-Scan/LD4 (Laser Device) is available in four different models. Two different red light wave lengths either 670 or 635 nm and two different measuring widths either 155 mm or 240 mm.
Features
Evaluation according to Symbology standards and specifications (traditional evaluation)
Evaluation according to ISO/IEC 15416 (CEN/ANSI evaluation)
Selection of quality grades (CEN/ISO or ANSI)
Preset of required quality grade in comparison to the measured grade
Average measurement
PCS evaluation at two different positions
Evaluation of bar and space reflectance values in addition to contrast values
Manufactured in conformity to ISO/IEC 15426-1
Automatic reflectance calibration and internal metric built in scale
Autodiscrimination of Symbologies
Static contrast measurement
Verification of light margins
Verification of Ratio (relation between thin and thick bars)
Automatic size verification
Check digit verification
Verification of EAN-128 data structure
Zoomable scan reflectance profile for additional manual evaluation
Indication of defects, edge contrast and symbol contrast in scan reflectance profile
Measuring of free selectable reflectance values and distances within the scan reflectance profile
Contactless measurement
Linear measurement for maximum accuracy
Supported languages German, English, French and Spanish
Export of measured data in CSV table
Report print on PC default printer
Important functions can be operated directly from the Laser Device
Shipment in a case with all required accessories (without PC).
Bar Code Symbologies
EAN-13, UPC-A, EAN-8, UPC-E, including Instore and 2- or 5-digit Add-Ons, Code 128, EAN 128, 2/5 interleaved, ITF-14, Code 39, PZN-Code (Pharma-Zentral-Nummer), Code 32 (Italian Pharmacode)
Optional Codes
EAN-D3, Code 128 UPU, 2/5 Frachtpost, 2/5 5 bars (straight), 2/5 3 bars (Matrix), 2/5 IATA, Codabar ANSI, CODABAR Monarch, Code 39 Full ASCII, Code 39 UPU, Code 93, MSI, Pharma and Mini Pharma Code, 2/5 Siemens, 2/5 Hoeft&Wessel, Measuring program for unknown Codes
Technical Specifications
PC with Windows 7, 8.1 and 10 required for Operation, one serial port
Size of Laser Device: 251x84x92 mm (WxDxH), standard version 133 mm measuring width for codes
Size of Laser Device: 222x84x92 mm (WxDxT) optional version with 240 mm measuring width for wide codes
Light source solid state laser with 670 nm wave length or optional 635 nm (both red light)
Laser class II
Selectable aperture 4, 6 and 8 mil
Accuracy +/- 2 µm metrical +/-5% contrast
Power supply 100 Volt to 240 Volt
Convertible primary socket adapter (EURO, US, UK); others on request